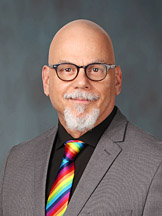 As Bellingham Technical College's interim president, it is gratifying and inspiring to see how BTC effectively serves our students and community through innovative professional technical education programs supported by excellent student services practices.
We are proud to be this community's technical college and to have served over 5,400 students last year, even while operating under pandemic conditions. Our Board of Trustees, administration, faculty, and staff all remain committed to fulfilling BTC's mission to provide student-centered, high quality professional technical education for today's needs and tomorrow's opportunities, ensuring that students receive an exceptional educational experience. Our relationships with community, business, and industry partners continue to grow in strength and BTC's reputation reflects our pursuit of excellence. 
As part of our commitment to continuous quality improvement, BTC is implementing a Guided Pathways approach to instruction, clustering individual programs into areas of study such as Advanced Manufacturing, Transportation & Mechanical Technology, and Allied Health and utilizing navigators to provide consistent wrap-around support to students. This model will increase instructional effectiveness, improve retention and persistence, and reduce time to completion. 
BTC has augmented our offerings to enhance after-graduation opportunities for students by developing new Bachelor of Applied Science degrees in Engineering Technology and Operations Management, with a Bachelor of Science in Nursing in the early stages of approval. 
In addition to these expanding degree opportunities, BTC provides continuing education, industry certificates, and customized training to incumbent workers.
Of course, we are proud to maintain our partnerships with local school districts as well. The IMPACT! Program is re-engaging at-risk youth and getting them back to school to earn their diploma, GED, or professional technical credits, and BTC supports CTE Dual Credit and Running Start dual enrollment programs in collaboration with high schools across Whatcom County.
Whether you are a high school student, traditional student, or lifelong learner, BTC has great things happening. 
Sincerely, 
Walter Hudsick